With thousands of essential oil diffuser necklaces available to pick from, it's hard to know which is the best one for you or as a gift. We're asked by our readers if there is a best essential oil diffuser necklace… unfortunately, it totally depends on the person!
RELATED: Sometimes people looking for essential oil diffuser necklaces also want to read about the best essential oil bracelets.
To help simplify your search, we've curated a list of the best essential oil diffuser necklaces of 2020. Let's take a look:
Pure Diffuser Necklaces by Vitality
The Pure Diffuser Necklace is made with two chains, one with a porous lava stone and the other with a Pyrite stone. It's carefully designed and perfectly dainty for women.
What's nice about this essential oil diffuser necklace is that it's unidentifiable as a diffuser necklace. It also sits nicely below your neck with a dainty appearance.
Triangle Lava Stone Necklace by Twisted Tree Jewelry
The Triangle Lava Stone essential oil diffuser necklace comes in gold, rose gold, and silver. Its minimalist design is beautiful on its own, or you can turn it into an aromatherapy diffuser. It's very simple to place a few drops of your favorite essential oils on the lava stone bead.
Breathe deeply and enjoy that aromatic scent where ever you go!
Lava Rock Diffuser Necklaces by StudioVy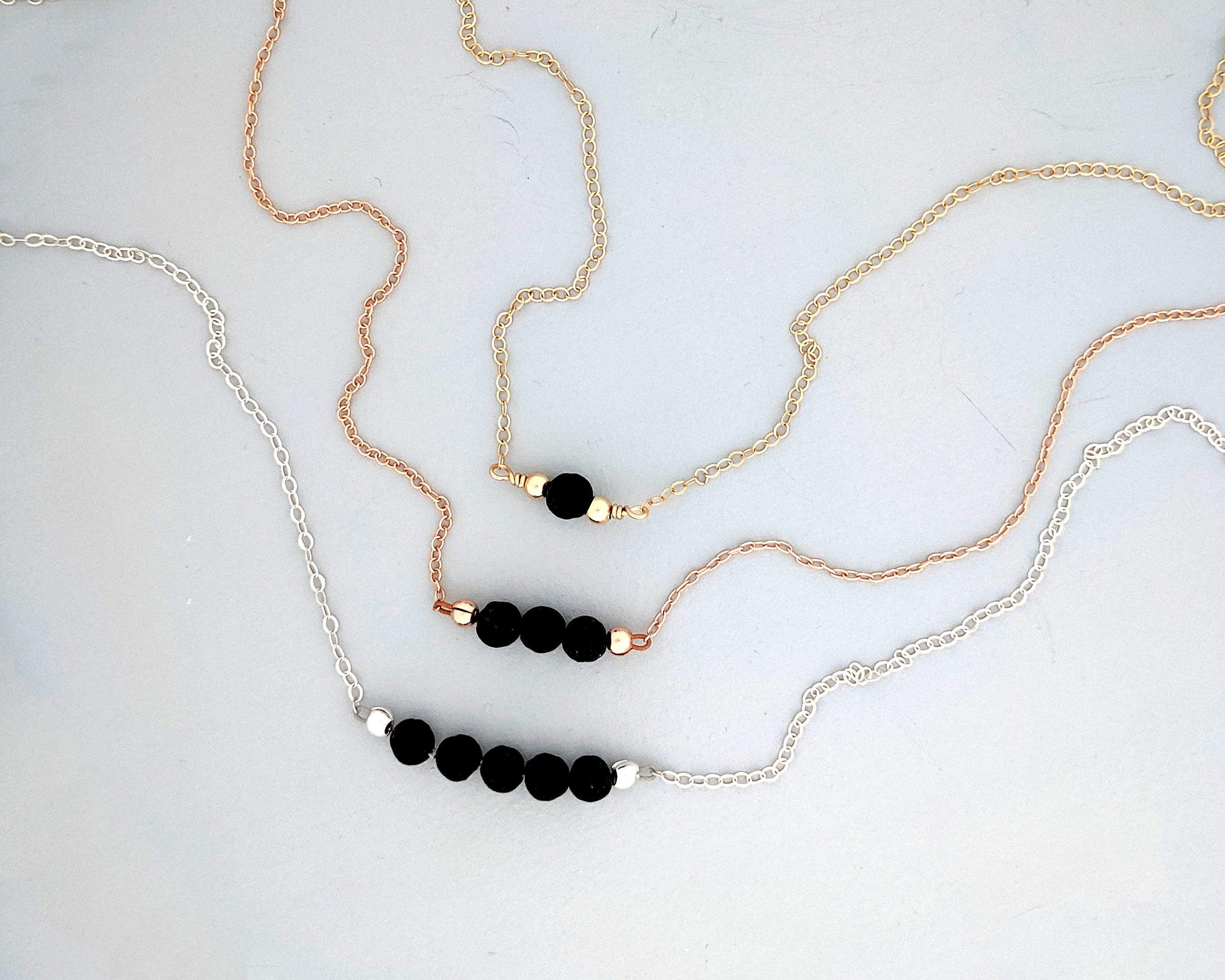 You can wear this lava rock necklace every day and turn it into an aromatherapy necklace by rubbing on a favorite essential oil (not included), and your body and mind will be calmed even more! This dainty bar necklace is your classic "little black dress" version of jewelry – it will look amazing with just about any outfit, from casual to formal.
What's nice about this lava rock diffuser necklace is you have 3 subtle style variations to choose from:
Single stone
Three-stone bar
Five-stone bar
Some readers have purchased all 3 and rotate them depending upon their clothing choice for the day.
Teardrop Diffuser Necklace by JKCE Designs
This beautiful teardrop-shaped diffuser necklace comes with a black felt insert to add your favorite essential oil before wearing. You can replace the felt with the color of your choice to make it match your outfit each day.
This necklace, more so than the others, is a bit more substantial and will stand out. If you're someone that likes people asking about their jewelry, this could be a great choice for you. The necklace rope is still dainty, which is a huge plus as most people don't want to have a bulky chain.
This necklace is available on a silver-plated snake chain in your choice of 16, 18, 20, 22, 24, 26, 28 or 30 inches. Each item comes individually boxed and ready to give as a gift.
Lava Bead Essential Oil Necklace by Ashley Madrigal
The Lava Bead Essential Oil Necklace is a great choice if you're looking for a shorter option. It comes in 3 color options: gold, silver, and rose gold. Due to its popularity, this option has become a "best seller" on Etsy! It does have 3 length options: 14 inches, 16 inches, and 18 inches. So, depending upon what kind of look you're going for, you can order it to be short or collarbone length.
We think this necklace has a cool surfy, summery vibe.
Dreamer Lava Stone Essential Oil Necklace by Ashley Madigral
Ashley is doing something right… This necklace stands out! It's more trending and dainty than the other necklaces on the list, so if you're going for more of a stand-out style, this is the one for you!